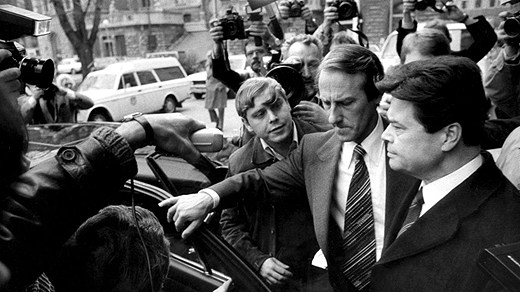 Prague, Feb 21, 2011 – "Marc," Boris Pankin bellowed at me as I turned around on one of Prague's side streets. "Yes, Mr. Ambassador," I responded, walking towards him. "Valentina says you have sympathetic eyes. We are happy to join you for dinner."
So began my deep friendship in November 1998 with Boris D. Pankin, who served as Soviet Foreign Minister in her waning days.
Yesterday, Boris Dimitrievich turned 80.
On that cool Prague day in 1998, Pankin and I had been co-panelists at a conference on NATO. I argued strongly for the alliance. He argued for a different security parameter. One year later, the Czech Republic, Hungary, and Poland would join.
Pankin has always been bigger than life.
In 1982, he had been called into Sweden to become the Ambassador to clean up the mess left by the infamous "Whiskey on the Rocks" incident. A Soviet Whiskey Class submarine had become marooned on a rock-formation in Swedish waters outside the Stockholm harbor. It was a huge international incident at the time and an enormous embarrassment for the Soviet Union. Boris would manage the aftermath of the incident with elan and diplomatic agility. And for eight years he would guide Soviet relations with Sweden. To this very day, he remains enormously popular with the Swedish people and now calls Stockholm home.
In 1989, Pankin would be posted to Czechoslovakia as the last Soviet Ambassador to hold the post. The Velvet Revolution led by Vaclav Havel might have gone very differently indeed without Boris Pankin's willingness to oppose the forces of evil. While then US Ambassador Shirley Temple Black vacillated, Pankin stood down the Czechoslovak Army and Statni Bezpecnost (StB), the notorious Secret Police. When violence broke out, he called in the Czechoslovak Communist leadership and made it unmistakably clear that he would not tolerate Havel and the students being shot at. The Velvet Revolution took its course and Havel became President of a liberated Czechoslovakia.
In early 1991, Communist Apparatchiks fought desperately to undermine Perestroika and Glasnost. Gorbachev was put under house-arrest while visiting his summer dacha on the Black Sea. Several organs of the Soviet system had turned against Gorbachev – as had some military units. Pankin again stood firm. He refused to support the efforts to oust Gorbachev. In so doing, he played a critical role in breaking the back of the putchists. He remains the highest ranking Soviet Diplomat to have stood against the coup d'etat.
For that Gorbachev awarded him the Soviet Foreign Ministry.
It would not last long. In 100 days the Soviet Union would collapse under the people's power, led by Boris Yeltsin. Arrogant and self-aggrandizing apparatchiks, who sought to carve up the Soviet empire among themselves, also played a major role in undermining Gorbachev. They included Azerbaijan's Heydar Aliyev, Kazakhstan's Nursultan Nazarbayev, Georgia's Eduard Schevardnaze and Belarus's Alexander Lukashenko. Ring any bells folks? Gorbachev had miscalculated the speed of the demise of the Soviet empire and his ability to manage that decline was seriously undermined by these and other strongmen.
In those hundred days, Pankin would establish diplomatic relations with the State of Israel – something he is particularly proud of. He would start the normalization between the Soviet Union, NATO and Europe – and especially Central and Eastern Europe – not an easy task given the legacy of the Cold War. Under his reign as Foreign Minister the Soviet-US disarmament process would also begin. In his autobiography, The Last Hundred Days of the Soviet Union, Pankin writes eloquently about his public life and about issues which had previously been unpublished in the West.
In late 1991, Pankin would become the first Russian Ambassador to the Court of St. James. As the Ambassador in the United Kingdom, Pankin was seen as a calming voice and an experienced hand. He would leave his post in protest of the Russian invasion of Chechnya in 1994.
Pankin later introduced me to the now-deceased Vladimir Lomeiko, Gorbachev's Press Secretary, to whom I would become close and with whom I had many long talks. Pankin became the Patron of the Society for International Academic Cooperation at the University of Mannheim, a pre-cursor to the Prague Society. He joined Global Panel's Advisory board and has spoken widely to students in many parts of the world.
Pankin was old guard; but, he recognized the future.
His actions were a result of a deep value system – even when it went against his masters.
One of the last living Praetorian guards of the Cold War order, he became one of the principal promulgators of a new democratic one.
And unlike most, he has remained unselfish, unassuming and ethical.
(International Syndicated Columnist Marc S. Ellenbogen is chairman of the Berlin, Copenhagen and Sydney-based Global Panel Foundation and president of the Prague Society.. An advisor to governments and political personalities, he is member of the Editorial Board of the Journal of Entrepreneurial Finance.)
—