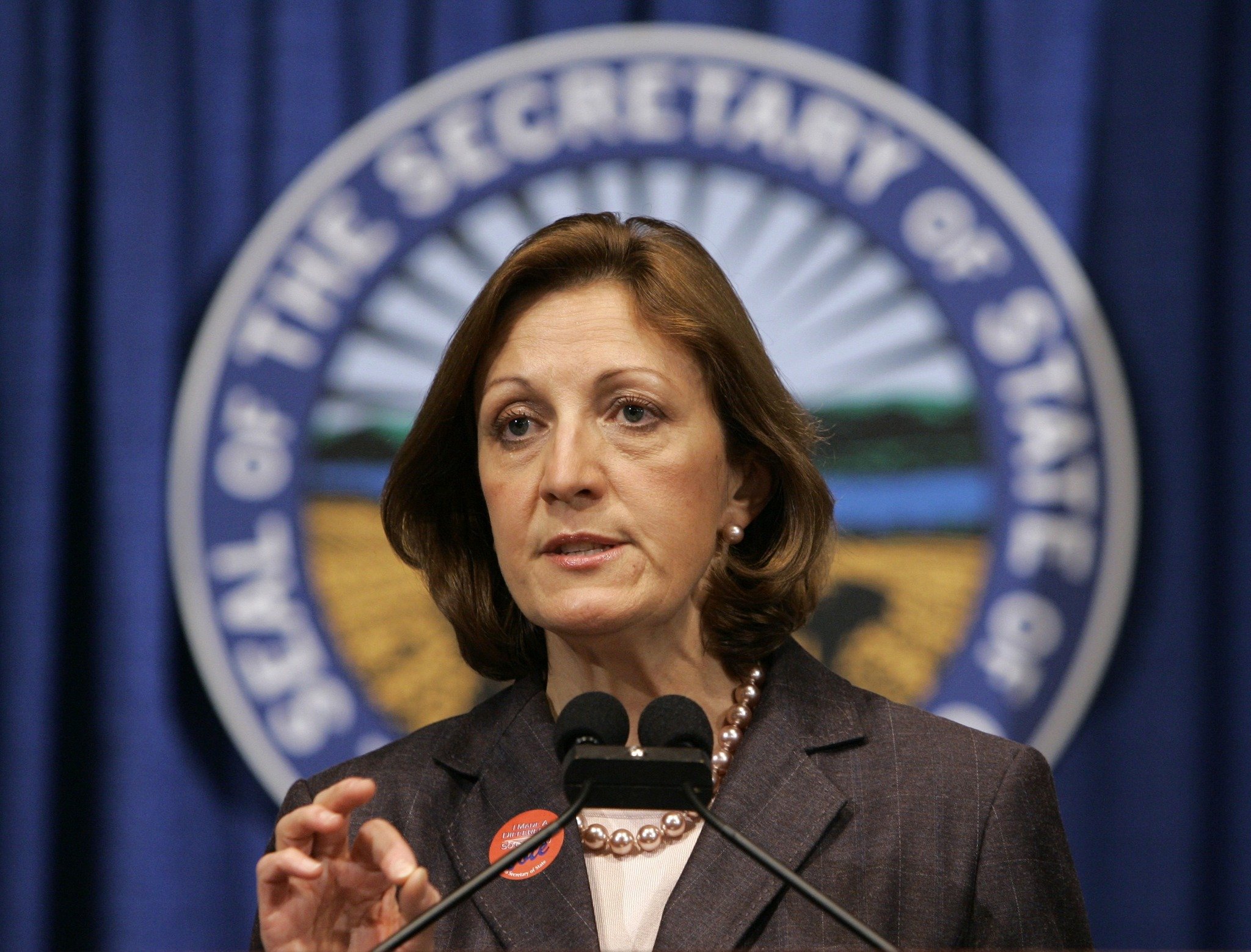 Columbus, Ohio, May 3, 2010 — Super Saver won the 136th Kentucky Derby on Saturday. The three year old was not the odds on favorite. Pulling ahead in the final turn, Super Saver strode to victory over his opponents. Ohio Secretary of State Jennifer Brunner should do the same to Lt. Gov. Lee Fisher in the final stretch in Tuesday's Democratic primary for the US Senate.
The boys in Ohio, including Governor Ted Strickland – whom I met in 2008 – have done all they can do to undermine Brunner. I would have expected Strickland to put Brunner's competence and integrity ahead of pandering to parts of his Democratic base by backing her opponent. But this has not been the case. Other Democratic leaders have done the same. It is intolerable. And in Strickland's case I find it -my apologies governor- truly disgraceful.
I met Judge Jennifer Brunner in Washington DC at the 2006 Democratic Women's Leadership Forum. She was running for Ohio Secretary of State. As a member of the National Advisory Board of the Democratic Party, I also met then Congressional-candidate and now Senator Kirsten Gillibrand (D-NY) and then Kansas Governor now Secretary of Health Kathleen Sebelius. They impressed me and I became a supporter of each.
In 2008, Secretary Brunner opened the kick-off for Global Panel America in Columbus. A group of international leaders including former U.S. Under-Secretary of Defense Dov Zakheim, former Deputy NATO Commander Gen. Dieter Stockmann, former Canadian Foreign Minister Barbara McDougall, the Minister of Legislative Affairs for the Czech Republic Cyril Svoboda and His Royal Highness Prince Radu of Romania were present. Governor Strickland hosted a dinner for the participants and state leaders. Brunner would later become a member of Global Panel's Board of Advisors.
The issue was US Policy and Economic Development, and how individual US states could help and advise the international community and foreign countries in areas of health, education, technology, elections and the rule of law. As Secretary, Brunner pushed through rules which enable expedited business filings. They can now be done in four hours. Ohio has much expertise to offer.
Ohio would be the 23rd largest economy in the world if she was measured against other countries. That would be just behind Sweden and ahead of Saudi Arabia. Ohio is considered a center for science and technology, insurance, medicine and has a strong agricultural base. Wright Patterson Air Force base is in Dayton. Cleveland is known for medicine and Case Western Reserve University; Cincinnati for business home to Proctor & Gamble; Akron for rubber and Columbus for R&D home to Nationwide Insurance and the main campus of Ohio State University, the largest US university with nearly 60,000 students. Many other companies have headquarters in Ohio.
Secretary Brunner was a superb patron. She was knowledgeable. She was gracious and thoughtful. She was down to earth. The international guests were left with a remarkable impression of the state. Brunner is the perfect representative of the people of Ohio.
A former Judge, Brunner has stood her ground against entrenched groups to the benefit of Ohio citizens. A recent endorsement in the Cincinnatti Enquirer called her a feisty underdog who "has shown resilience and policy-making skill as secretary of state, a difficult post on which both parties exert great pressure," and "she has stood her ground credibly on reforms" and has worked out snags in Ohio's voting process. Jennifer Brunner is self-made, independent, ethical, direct and salt-of-the earth.
Brunner has been outspent by her primary opponent 4 to 1. Jennifer has taken a grassroots campaign to the people of Ohio on the the Courage Express – her campaign bus. She has logged thousands of miles in three weeks going to many corners of Ohio. It reminds me of the late Minnesota Senator Paul Wellstone's come-from-behind victorious campaign.
The first thing Jennifer Brunner did as Ohio Secretary of State was to rid Ohio of incompetent and biased election officials. They included Democrats and Republicans. I remember sitting in her office in the state capital in 2008 talking about voting machines. I was impressed with her zest and zeal despite opposition even within her own Democratic party. We also talked about election monitoring overseas. Global Panel was sending election monitors to Morocco, the Republic of Georgia and Ukraine. Jennifer was very interested.
Marc, I would go. I know we need honest officials to monitor the election but the people of Ohio need me here now. And they are my first priority. The people of Ohio have always been Jennifer's first priority. Just recently she canceled a visit to Europe with other States' Secretaries of State to speak about voting issues to US citizens overseas. But a conflict arose, and as always, the people of Ohio came first.
Jennifer Brunner should be supported in the Democratic primary and general election.
Brunner's honesty and integrity are beyond reproach.
The people of Ohio have always been her first priority.
That will be true in the US Senate as well.
—
(Syndicated Columnist Marc S. Ellenbogen is chairman of the Berlin, Copenhagen and Sydney-based Global Panel Foundation and president of the Prague Society. He has advised political personalities and is a founding trustee of the Democratic Expat Leadership Council.)