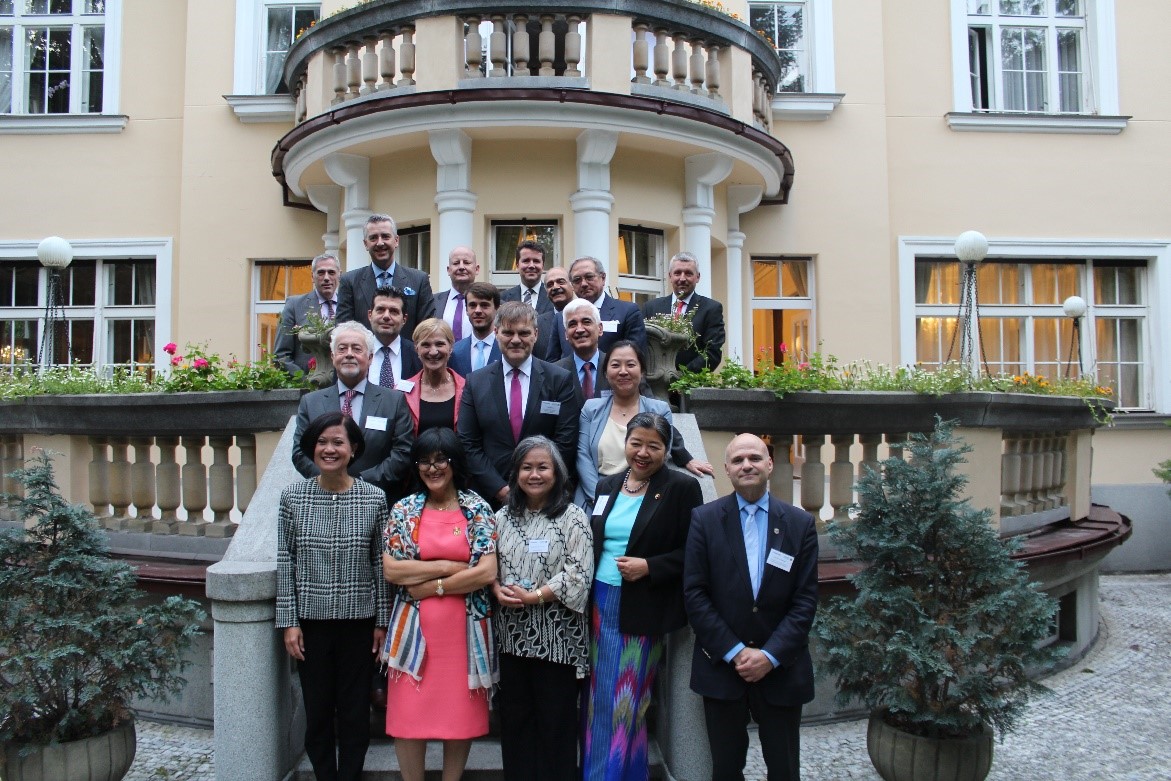 1st row:  H.E. Mrs. Ureerat Chareontoh, H.E. Mrs. Sundus Omar Ali Albayraqdar, H.E. Mrs. Kenssy Dwi Ekaningsih, H.E. Mrs. Kay Thi Soe, Prof. Marc S. Ellenbogen, 2nd row: H.E. Mr. Gerard Phillips, Mrs. Eva Anderová, JUDr. Rudolf Jindrak, Mrs. Oh Jinhe, 3rd row: H.E. Mr. Antonios Theocharous, Jacob Janušek, H.E. Mr. Roberto Alejandro Salafia, 4th row: H.E. Mr. Efthymios Efthymiades, Mr. Bert Stiers, Mr. Michael Stimson, Mr. Arthur Braun, Mr. Farzad Keshvargar, H.E. Mr. Luis De Almeida Sampaio, Mr. Zoltán Szűcs
On the cool autumn evening of the 10th of September, the arriving guests were met with a warm welcome at the residence of the Thai Ambassador; who – in cooperation with the Prague Society and Global Panel Foundation – hosted the first Public Policy event of the new season.
The main part of the event comprised of discussions touching on foreign relations of the Czech Republic.
The President of The Prague Society, Prof. Marc S. Ellenbogen, and H.E. Ureerat Chareontoh were joined by various Ambassadors, with the guest of honour, JUDr. Rudolf Jindrák, the Director of the International Department at the Office of the President of the Czech Republic.
After the discussions, the guests had the opportunity to relish a selection of Thai dishes and delicacies.