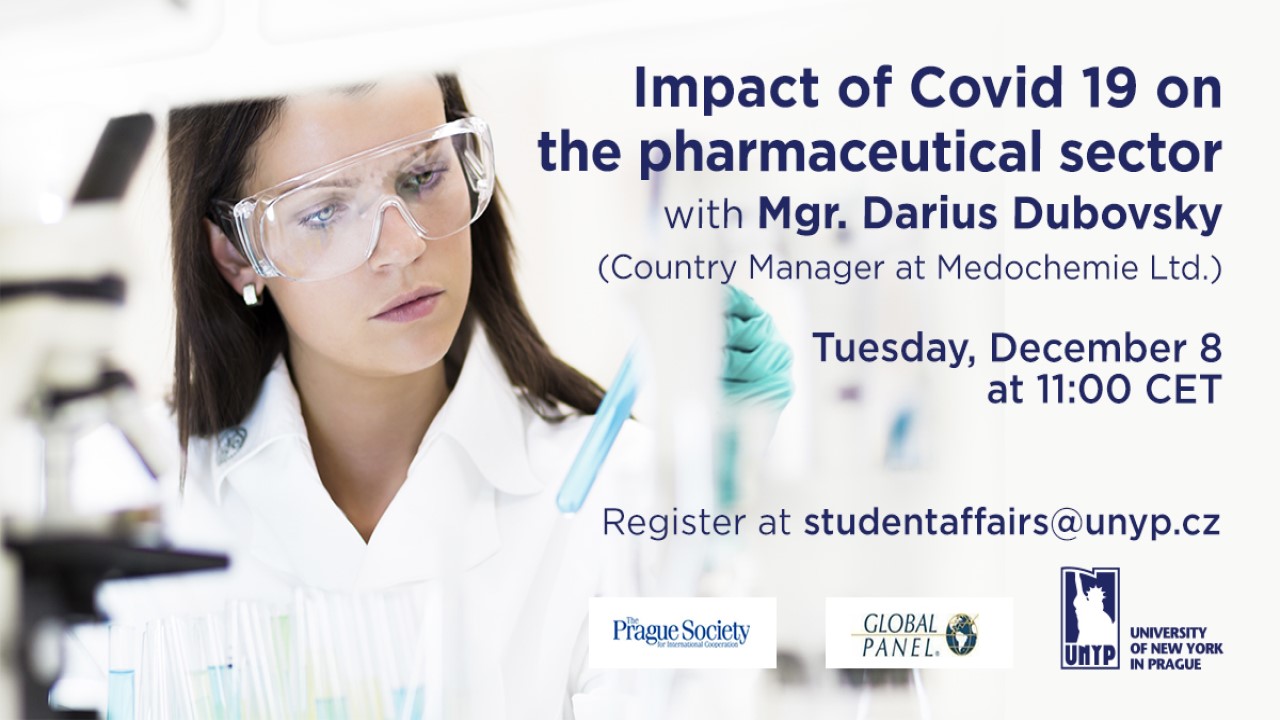 On December the 8th the Prague Society and Global Panel Foundation in cooperation with the University of New York in Prague hosted a thought-provoking discussion on the impact of COVID-19 on the pharmaceutical sector. The main speaker of the event was Mr. Darius Dubovsky, country manager of  the Czech Republic and Slovakia at Medochemie Ltd, one of the biggest Cypriot pharmaceutical companies and the main exporter of medicine to the aforementioned countries. With Ambassadors, members from the Prague Society and the Global Panel Foundation and associates from the UNYP present, an interesting and valuable discussion unfolded between the parties.
Mr. Dubovsky talked about the consequences the virus has had on the pharmaceutical sector and provided first-hand insights into how it effects the operation of companies within field. Participants had the opportunity to ask questions and exchange ideas to better understand related developments in Europe and all around the globe. The conversation touched on the short- and long-term solutions regarding the pandemic and gave an outlook on what to expect going into 2021.
At the end of the discussion all participants were in agreement that more public discourses between medical experts could provide a useful source of knowledge when it comes to understanding the virus, both from the standpoint of preserving health and giving a perspective on viable vaccinations and other solutions.
The Prague Society and Global Panel Foundation look forward to cooperating with the University of New York in Prague on similar discussions in the future to help facilitate an exchange of ideas between esteemed professionals and the younger generation.