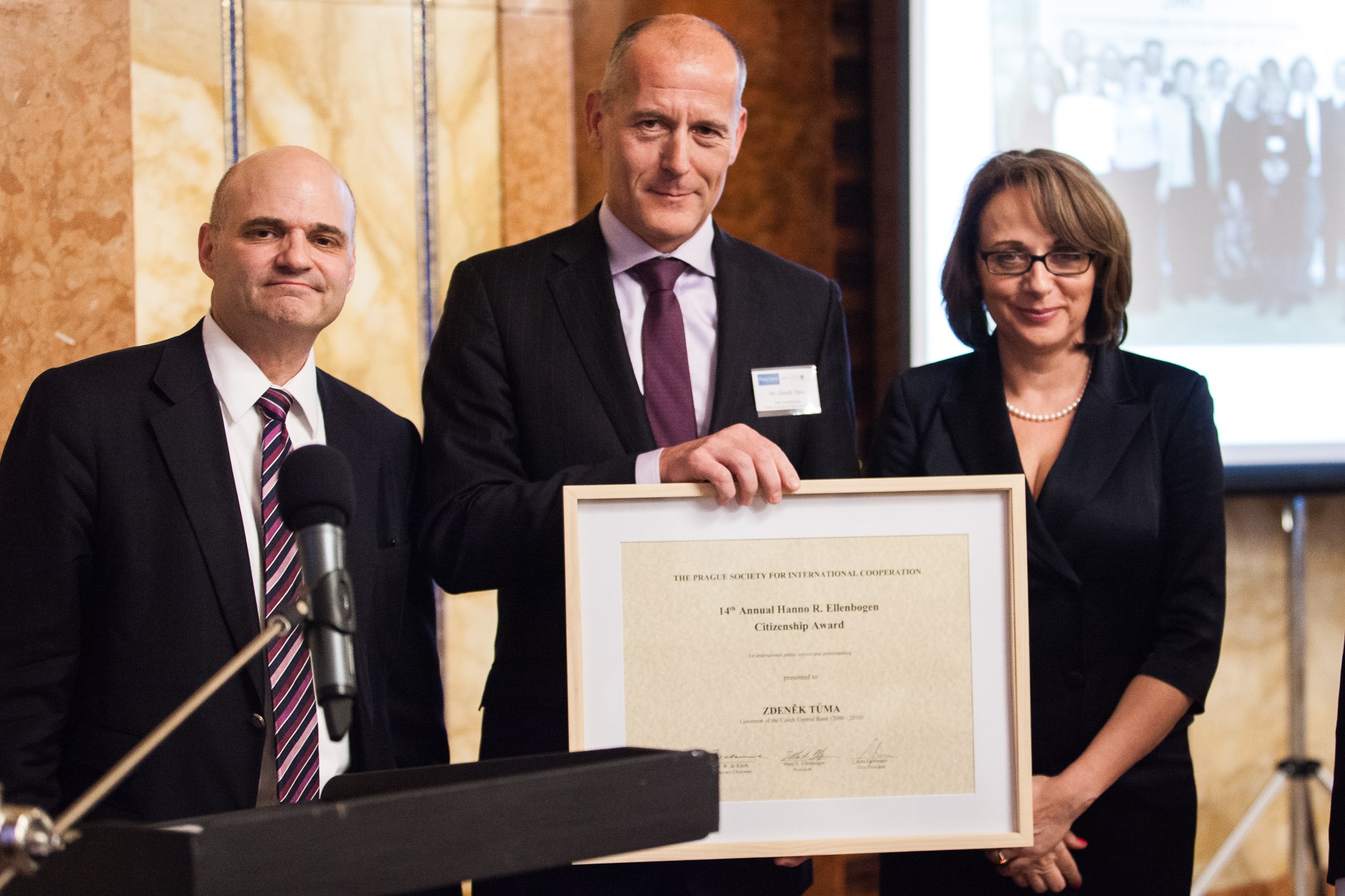 Prague, April 6 2016 – Souad Mekhennet, Tony Fitzjohn, Magda Vášáryová and Zdeněk Tuma received the 14th Hanno R. Ellenbogen Award at a ceremony hosted by Lord Mayor Adriana Krnáčova at the Mayor's Residence on Tuesday, April 5th.
Tony Fitzjohn is a renowned conservationist with activities in Kenya and Tanzania.
Souad Mekhennet, who could not accept her prize in person because she recently received death threats connect to her work on Islamic extremism, is a Moroccan journalist which has worked for Washington Post & ARD
Zdeněk Tuma former Czech Central Bank Governor and Magda Vášáryova first female Presidential Candidate in Slovakia, the ambassador of Czechoslovakia in Austria (1990–1993) and ambassador of Slovakia in Poland (2000–2005) and Czech and Slovak Screen Doyenne.
Previous recipients include the Dalai Lama, Václav Havel, Miloš Forman, Wesley Clark and Věra Časlavská. The Award is ranked by UN as one of top five Awards in Central and Eastern Europe and is jointly presented by the Prague Society and the Global Panel Foundation.
"This Award is about courage – the courage to change, to stand against mediocrity – to think beyond parameters. Each of these recipients has shown that courage" said Marc S. Ellenbogen, the President of the Prague Society and Chairman of the Global Panel Foundation.
The annual HRE Citizenship Award honors life-long dedication to public service.
Guests of honor at this year's ceremony included –
Hon. R. James Woolsey – Former CIA Director
Hon Peter Nečas – Former Czech Prime Minister
Hon. Stefan Fule – Former European Commissioner
Hon. Hynek Kmonicek – Head of Foreign Affairs Office for Czech President Miloš Zeman
Hon. Tomáš Borec – Former Justice Minister, Slovakia
Hon. Helena Valkova – Former Czech Minister of Justice
Hon. Klaus Peter Gottwald – Former Commissioner for Disarmament and Nuclear Issues
Karel Janeček – Democracy 2.1
General Bruce Lawlor – Former Chief of Staff, US Department of Homeland Security
Hon. Dan Maffei – Former US Congressman, New York
Hon. Yannos Papantonion – Former Defense Minister, Greece
Hon. Mark Pritchard – Member of the House of Commons, UK
Hon. Geoffrey Robertson, QC – Human Rights Attorney
The award comes with a 40,000 CZK cash prize. It is typically donated to a young person of the recipient's choice. Souad Mekhennet nominated organizations Praunheimer Werkstätten and Die Weisser Ring, Tony Fitzjohn nominated Arthur F. Sniegon which is an aspiring conservationist from Czech Republic. Magda Vášáryova has chosen the oldest women organization in Europe – Živena and its activity towards females from the Roma community in Slovakia and Zdeněk Tuma has chosen Petr Koukal, Czech Olympic winner and his foundation which is helping men with testicle cancer.